The Pump House has been providing a venue for community arts activities in Watford for over 50 years. We cover all art forms including performance, music, written, spoken and visual art.
Our aim is to provide an accessible arts venue for the diverse communities we serve. In these tough times, the arts continue to provide a social and emotional lifeline for our communities – and we're proud to be home to diverse groups supporting children, those living with mental health problems, learning disabilities or dementia.
Our ambition is to become a hub to nurture emerging new talent and to be a champion for the arts in the wider Watford cultural landscape. As part of this, we're the driving force behind the annual Watford Fringe Festival, which brings together great performances of theatre, music, comedy, dance, magic and family fun.
We continue to invest in our facilities to make them as accessible as possible for all our users and visitors. That's why we've launched our Raise the Roof campaign to replace our roof and make other improvements.
Nearly 38,000 people crossed our threshold in 2022, a 45% increase on our previous record of 21,000. That's whether as an audience member, participant, or volunteer. 
The Pump House Theatre and Arts Trust is a registered charity and is run by a Board of Trustees:
Lee Farman (Chair)
Sally Griffin (Company Secretary)
Jonathan Sadie (Financial controller)
Roger Pidgeon
Jason Brameld

Anthony Murphy

Alex Williams
Dina Bhudia
Andrew Cox
Phil McCusker
The Board is supported by a dedicated team of volunteers.
We're privileged to appoint two fantastic patrons to support our future plans and help raise awareness of the Pump House.
Dan Dark OBE, Executive Vice President of Worldwide Studio Operations for Warner Brothers, and Chris Luff MBE, CEO of Watford & West Herts Chamber of Commerce, have already been tremendous supporters of the Pump House so we're proud to have them join us in these more formal roles.
The Pump House is proud and very grateful to work closely with and have the support from the following partners:
Watford Borough Council – Voluntary Sector Commissioning Framework
Arts Council England
Watford and Three Rivers Trust (W3RT)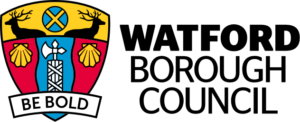 Corporate organisations and individuals who have signed up to our support membership scheme and have provided much appreciated support.